This post: December Countdown: 31 Christmas Activities for Teens (That Aren't Totally Lame)
Co-Written by: Morgan Hill & Nancy Reynolds
These fun Christmas activities for teens are guaranteed to get your teen in the Christmas spirit and keep them engaged with the family all season long (instead of them hanging out in their bedrooms)!
Because let's be honest, teenagers aren't always on board with Christmas activities. They're lingering between childhood and adulthood with some activities being too boring or lame and others being well… just too hokey or grown-up "ish" for their taste. That's why we scoured the best ideas and rounded up activities teens will actually like!
Whether your teen does a few of these with besties or you round up the family for some Christmas fun "teen style," here are a few Christmas activities for teens that aren't… you know, totally lame.
31 Christmas Activities for Teens (That Aren't Totally Lame)
This post may contain affiliate links. For more information, visit our Privacy/Disclosure Page.
#1 Let Your Teen Host a White Elephant Gift Exchange Party
Get your teen in the Christmas/holiday spirit by letting them invite a group of friends over for a White Elephant Gift Exchange Party where everyone gets to trade to win (or ditch) the most ridiculous gift. It's a fun idea for young and older teens alike! Spring for a few holiday snacks and hot cocoa and/or soft drinks and crank up the holiday music! If your teen needs a few tips on how to host a White Elephant Gift Exchange Party, check out this site for the rules!
#2 Let Your Teen Be in Charge of the Christmas/Holiday Playlist
Sure the Christmas classics are great (do you ever really get tired of Rockin' Around the Christmas Tree?), but this year, let your teen create a "new and improved" Christmas playlist that's way more hip than anything you'd come up with. Need a little inspiration? Have your teen check out these modern Christmas songs that are anything but lame. Let their playlist serve as the soundtrack to the season.
#3 Christmas Selfie Scavenger Hunt
Kick off December with this fun family and friends game! It's an action-packed game that's right up a teenager's (I can't live without my phone) alley! To play, pick some harder-to-find Christmas-inspired decorations, items, or settings around your home, neighborhood or town, and race to find as many as you can to post as proof in a designated time. The team who takes the most selfies on the list WINS! For a FREE Christmas Selfie Scavenger Hunt printable, CLICK HERE!
#4 Have a Hilarious Gingerbread House-Making Contest
Gather the family together to make one gingerbread house or let each of your kids create their own. The only "rule" is, it can't be ordinary. It has to be crazy, funny, or downright ridiculous – pretty much anything goes! Brace yourself… teens can get really creative! (Pro Tip: Hot glue your house together for a lasting treat you'll never eat!)
#5 Play "The Giftwrap Game"
Put your family up to the challenge to see who can wrap a present the fastest! The catch? You have to work in pairs and each person can only use one hand! You might even get a chuckle out of your typical eye-rolling teen with this game! Get the full tutorial on how to play HERE!
#6 Have a Snowman Making Contest
If you live in a place where it snow,s you have the BEST family bonding idea sitting right in your backyard – the snow! Build one snowman as a family or break up the family into two teams and have a competitive snowman-making contest. The funniest, craziest, goofiest snowman wins! (Have friends or neighbors be the judge.) Seriously, there are so many fun ideas out there! Check out these hilarious and crazy snowman ideas for a little inspiration!
#7 Create a Family TikTok Video
Your teen can do this with friends or you can take on the challenge as a family. The only rule is it has to be festive and fun! Dance, sing, do something silly (you have to set your dignity aside for this one!) – then see how many likes and shares you get. Technology really can bring you closer to your teen! Need tips on how to create your first TikTok video? Check out these tips!
#8 Have a Holiday Favorites Movie Night
Is it really Christmas if we don't dive into some of the holiday movie favorites our kids cherished as a child? Movies like Rudolph, How the Grinch Stole Christmas, Santa Clause is Coming to Town and a Charlie Brown Christmas STILL put a smile on our kids' faces – even though they act all cool and pretend they don't care. So, grab a cozy blanket, light the fire (if you have one), break out the snacks and take a break while bonding over memories!
#9 Do a Crazy Hard Puzzle to Inspire a Little Togetherness
If this sounds a little boring… think again. We're not talking about a 500 or 1,000-piece puzzle, we're talking "let's take the challenge as a family" 5,000-piece puzzle! Celebrate a little "togetherness" one puzzle piece at a time! Of course, don't forget to serve up a few of their favorite snacks as a side! Check out this 5000-piece "snack" puzzle!
#10 Create a Festive Holiday Charcuterie Board – Teen Style
We all know charcuterie boards are here to stay! They're so much fun to create and the cool part is, pretty much anything goes as long as your taste buds are onboard! Is sweet not your family's thing? Go savory instead with a board filled with meats, cheeses, nuts, and anything else that sounds good to you. It's an activity! It's a meal! It's delicious! Need ideas? Check out these Festive Teen-Friendly Charcuterie Boards That'll Knock Your Family's Fuzzy Socks Off! Image: Take Two Tapas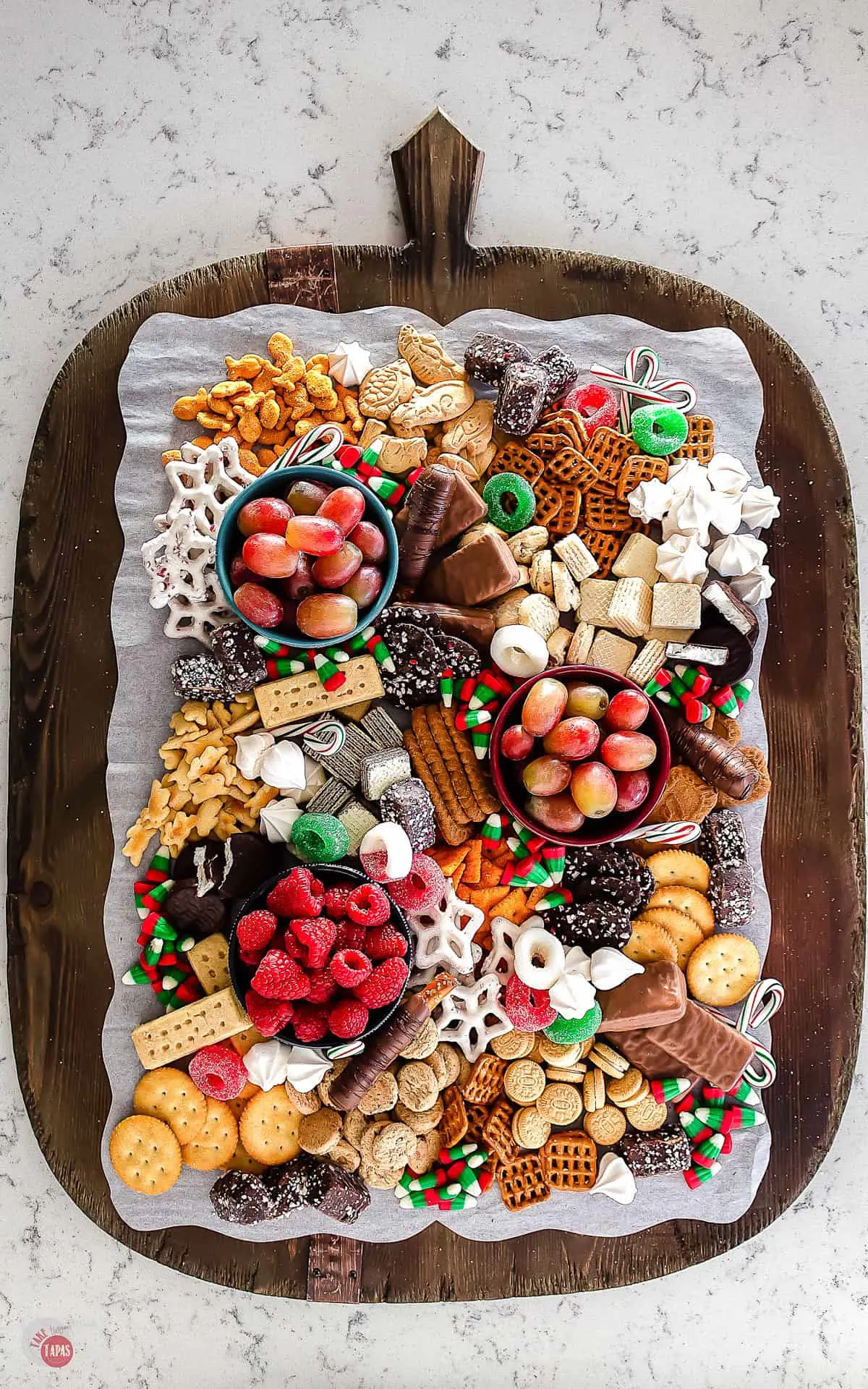 #11 "Would You Rather" Game – Christmas Edition
Put a holiday spin on the favorite "Would You Rather" Game! Create hilarious and goofy questions and start asking! To get your creative juices flowing, here are a few questions you could ask!
Would you rather drink an entire gallon of egg nog or eat an entire gingerbread house?
Would you rather go to school in an ugly sweater or a full-on Santa costume?
Would you rather go the entire Christmas season without your iPhone or your friends?
Would you rather eat a pound of chocolate chip cookies or a pound of fudge?
Would you rather get one big present or 10 smaller presents?
Need MORE ideas? Check out this post with 150 "Would You Rather" questions!
#12 Christmas Movie Trivia Game
Find out who in your family has the best Christmas movie trivia knowledge with questions that cover both the classic Christmas movies and the best modern-day flicks! Check out this FREE Printable Christmas Movie Trivia Game or make up your own questions to make it really challenging!
#13 Have a Holiday Chocolate Fondue Night
Honestly, I've never met a teen who didn't go nuts over fondue – girls AND guys! Pair your delicious chocolate fondue (or, you can do cheese, too!) with just about anything- fruit, pretzels, marshmallows, pound cake, cookies, chips, or anything else that sounds yummy! For dipping ideas and how to make the perfect chocolate fondue, check out this post!
#14 Play "Jingle Bell Toss"
What could be more entertaining than a beer pong-cornhole hybrid game? Just hot-glue solo cups to a board and toss chocolate candy bells into the cups to score! For even more fun Jingle Toss Game ideas – check out this site!
#15 "Who Am I" Christmas Edition
A fun take on the popular "Celebrity" or "HedBanz" games, each player draws from a pile of index cards (or, sticky notes work great!) featuring the name of a Christmas character (could be anyone – Chevy Chase, The Grinch, The Elf, Santa, Frosty, or ANY other Christmas character), then without looking, they stick the card to their forehead. The person then gets to ask ONLY yes or no questions until they figure out who their character is.
#16 Make an Epic Mocktail
What better way to stir up some serious holiday spirit with your teen than by sipping on a festive drink? For tons of fun ideas including this festive Santa's Style Shirley Temple, check out 18 Festive Non-Alcoholic Drinks the Whole Family Can Enjoy!
#17 Check out a Local Holiday Event
Just Google things to do in your area throughout the month of December and a slew of great events will pop up! From tree-lighting ceremonies and Christmas fairs to Christmas concerts and boat parades – don't let the holiday season fly by without taking in some of these fun events with your fam! Even in places sans snow – there's enough to keep your family in the spirit all December long.
#18 Hit a Nearby Town or City and Check Out the Christmas Lights/Festivities
Big cities have tons to offer around the holidays but don't discount some of the smaller lesser-known towns. So many of them go all out and even have winter/holiday festivities (including magical winter sleigh rides) for the whole family! Don't know where to start? Check out these 55 BEST Christmas towns in the US!
#19 Play Holiday Charades
You're never too old for a fun game of charades. Make it extra fun by letting your teen(s) choose holiday-inspired phrases, items, or people that will really get the family laughing. To make it easy, check out this site for great Christmas charades ideas!
#20 Ugly Sweater Cookie Baking Contest
Gather up all the bakers in the family (even if they are a little clueless in the kitchen) and put them up to the challenge – who can make the BEST ugly sweater cookie? Let them get a little creative, crazy, or downright cooky with their designs – the winner doesn't have to do their chores for a whole week! Here's an Ugly Sweater Cookie Cutter you can buy on Amazon!
#21 Camp in the Backyard
Snuggle up by a warm fire, make s'mores and reminisce about past Christmases in your own backyard! Break out the tent, a ton of cozy blankets, and have a fun night just being together – no technology, no iPhones, no distractions – just you and your family having a magical night under the stars.
#22 Create a NEW Holiday Tradition (Let Your Teen Decide)
When our teens get older, some of the traditions we love fall by the wayside. But that doesn't mean we can't create new ones! This year, get your teen in on the action and let THEM decide what tradition they want to start this year – it can be anything! From silly to serious – put them in the "new traditions" driver's seat!
#23 Play "Christmas Song Emoji" Game
Got a teen who thinks he/she is the king or queen of Christmas songs? This game is for them! See who in your family can beat everyone else by translating these emojis into popular Christmas songs. The one who figures out the most, WINS! To purchase this Christmas emoji game on Etsy (super cheap) click HERE!
#24 Play the "Unwrap the Gift" Game Wearing Mittens
Purchase a cool gift (something everyone would want or like) and wrap it in many (we mean MANY – like 10 or more) layers of wrapping paper. Then, let each family member unwrap one layer of the gift while wearing mittens (or oven mitts) – that's the fun part! The person who unwraps the last layer gets to keep the gift!
#25 Have a Speed Wrapping Contest
Got gifts you have to wrap for extended family but you're kinda dreading it? Why not solicit the help of your family in a fun way? Set the timer and see who can wrap the most presents in 15 minutes. (They have to actually be wrapped semi-decently.) The winner wins a $25 (or any amount) gift card to their favorite restaurant or store. (It's totally worth the money to have the extra help and it's fun!)
#26 Play the "Saran Wrap Ball" Christmas Game
When it comes to fun Christmas activities for teens, there are actually a ton of fun (and hilarious) games you can play with your family. But THIS one is super fun! It can be customized depending on the age of your teens and it doesn't have to cost too much. The Saran Wrap Ball Game is just that… a massive saran wrap ball with a ton of fun goodies layered throughout the ball and one killer prize in the center. Here are all the details of the game!
#27 Do a Holiday Craft
We're not talking about the hokey glitter and glue crafts your kids used to make at the kitchen table. We're talkin' COOL crafts that are so professional looking your teen can gift them as gifts! Hint: It's a great way to save money, too! For instructions on how to make these pretty holiday bath bombs, plus a bunch of other craft ideas, check out 27 Adorable DIY Christmas Gifts for Besties.
#28 Cook One of Your Grandparent's Heritage Recipes
Nearly every grandparent has a "signature" meal or recipe that's been passed down through the generations. Why not ask grandma or grandpa for the recipe and make it with them? It will give your grandparent a chance to share a few memories while your teen learns a few kitchen skills and family history.
#29 Candy Cane Hunt… With a Twist
3…2…1…Go! Hide as many candy canes as you like around your house and watch your teen scramble to find as many as they can under a time limit. Only, the best part is, before you hide the candy canes, tape money to them! If you hide 12 candy canes, have most of the candy canes with $1 bills, some with $5 bills, and one GRAND PRIZE candy cane with a $10 (or more) bill. Trust me, teens love money!
#30 Elf On the Shelf Antics Contest
By now, our kids have figured out that all the crazy stuff the elf did was just mom and dad acting on the elf's behalf, but that doesn't mean we can't keep the fun going. Have each member be in charge of the "elf antics" for one night. The goal is to do the most creative, fun, crazy, or hilarious antic ever! Take pictures and have a grandparent, aunt or uncle be the judge. The winner wins a gift card to their favorite coffee shop or store!
#31 Let Your Teen Throw a New Year's Eve Party
There really isn't much for teens to do on New Year's Eve. And, truthfully, with so many parties underway, it's not a very safe night for teens to be on the road. That's why it's a fun idea to let your teen throw their very own New Year's Eve Party – supervised, of course! For killer ideas for food, games, and entertainment, check out this post: New Year's Eve Party Ideas for Teens
Fun Christmas activities for teens don't have to break the bank – they just have to be a little creative and get your teen laughing and in the spirit of the season. Don't let the season slip by without making it special for your teen this year!
About Morgan Hill:
Morgan Hill is an essayist and humorist. She has written for many online and print publications including Insider, Your Teen Magazine, Revel, and MASK Magazine. She is the mother of freshman and senior sons in high school. When not writing, she can be found at flea markets, in her garden, photographing architecture, taking cooking classes, or eating the stinkiest cheese she can find. You can also find her on Twitter @MorganHWrites or Instagram @MorganHillWriter
If you enjoyed, "31 Days of December: Christmas Activities for Teens (That Aren't Totally Lame)," check out these other posts!
Teen Bucket List: 99 Things To Do In Winter That Are Cheap or Free
22 Christmas Traditions for Teens Who Need a Little Nudge to Get Into the Holiday Spirit
Share your thoughts in the comments section below! What fun Christmas activities for teens are your favorites?