This Post: Hilarious Thanksgiving Games Your Family Will Gobble Up
Written By: Marybeth Bock & Nancy Reynolds
It's almost turkey time and that means our families will be gathering together for food, fun, football, and other fall festivities!
With the long holiday weekend comes plenty of time to entice your teens to put down their phones (if only for a little while) and have a few hearty laughs with family, friends, and extended family. Can we all agree that there's nothing better than seeing our kids laughing, smiling, and letting their guards down?
So, we've gathered up a bunch of hilarious activities and games that your family might just gobble up! Check out these hilarious Thanksgiving games that'll get your teen off their phone and hanging with the family!
30 Hilarious Thanksgiving Games Your Family Will Gobble Up
This post contains affiliate links. For more information, please visit our Privacy/Disclosure Page
FUN THANKSGIVING ACTIVITIES
1. Thanksgiving and Christmas Family Feud Game
Want to play your own Family Feud game this Thanksgiving? Here you'll find lots of Thanksgiving and Christmas Family Feud questions and answers to have your very own Family Feud holiday fun this year!
2. Thanksgiving Scattergories
Put your family's post-dinner brain to the test by having them dive into a fun Scattergoroes game!
3. Thanksgiving Charades
Charades is a classic game that everyone in the family can enjoy! Add words centered around Thanksgiving Day and you're in for more than a few laughs!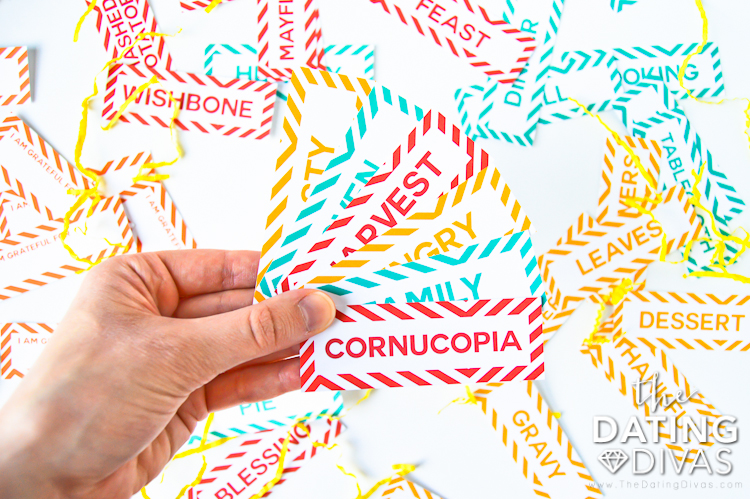 4. Thanksgiving Trivia
See who's the smartest person in the room – regarding Thanksgiving, that is!
5. The "Best" Thanksgiving Group Game
This is a hilarious group game in which teams select someone to represent their team – such as the tallest or the fastest. The twist? No one knows the part that comes next!
FUN THANKSGIVING GAMES (for Purchase)
This game is great for a large group of people, especially teens and adults! Just try not to laugh when someone is pretending to be a chicken laying an egg! (For 4+ players, ages 14+)
Quite possibly the perfect family game to play after your big Thanksgiving dinner. It's fun AND interactive, and you'll end up learning a ton about those cousins you don't see very often!
Yes, really – everything you need to play 237 different Minute to Win It Games comes in one box so this one is definitely one to buy and have on hand for family and friend gatherings. Perfect for holidays, teen game nights, dorm rooms, and family vacations.
Here's a fast-paced family game that can be played with kids ages eight years and up. A customizable card game that allows for fun creativity with answers and has players guessing the responses of competitors. Highly rated on Amazon.
If you're looking for a party game for both kids and adults that will have everyone roaring with laughter, you found it! Players who make a mistake get bopped with a 2-foot inflatable club. Sounds like fun to me! (For 2 or more players, ages 7 and up)
In this game, players are forced to make tough decisions between two equally terrible or fabulous options. The real laughs come in trying to guess what the other player's dealbreakers are. Get ready for some answers that may shock you. (For 3 to 6 players, ages 14 and up)
Best for teenagers 16+ and adults, this fun game will get played again and again because the gameplay varies dramatically based on who you're playing with. There's a stated warning: not recommended for accountants and other people without a personality!
OK, this game is for older teens and adults while the younger family members are off watching a kid-friendly movie. It's perfect for those with short attention spans because the pace is quick, the rules are simple, and games can be as quick as 30 minutes, or as fun as 90 minutes long. (Can be played with 2-8 players)
Teens and parents will love this one – the game has simple rules, and it's so fun to see how different family members perceive things. The larger the group, the more fun it is. (for 3 or more players, ages 8+)
In each round of this hilarious game, players tell a truth or a lie depending on their assigned role. Players score points when other players incorrectly identify their truth as a lie – or their lie as a truth. Think you've got some good actors in your family? This one is for them. (For 3 or more players, ages 10+)
Here's a hilarious new board game where players come up with witty, creative answers to modern-day prompts. It's full of fast-paced fun and perfect for any group gathering. Rated for those ages 13+ and adaptable to groups of all sizes and interests.
Let's face it, nearly every family is weird to a degree! But… how weird is yours? Teenagers may enjoy playing this one a little too much! (For 3+ players, ages teens and up)
If you're all feeling a little sleepy after a big holiday meal, this is the perfect game to get everyone up on their feet and having a flipping fantastic time. Great for 2-10 players ages 8+ and it only takes seconds to learn how to play this action-packed game.
This party game is the perfect addition to a hilarious family game night– it's 'Incohearent' – the game that took social media by a storm but this version is rated PG for the entire family. Who can guess the gibberish first? (For 2 or more players ages 12+)
You can set this game up in seconds and it's super easy to learn. It's been called the ultimate icebreaker for get-togethers and would be perfect for all your family gatherings this holiday season. For 3 to 10 players of all ages.
The winner of 10 industry awards, including the Scholastic Gold Star Toy Award, this game shines as the gold standard of family card games and will keep everyone laughing. You can play with 4 to 10 players, ages 8+ and each round only lasts three minutes or less. (2 expansion packs are available)
Known as the hilarious card game "for immature people of all ages," it'll be hard not to laugh when your family plays this one. It was created by comedians, so no wonder people have a great time battling to become the "Poo King."
This is a brand-new volume of the hilarious family/party game where players use 300 memorable movie lines to caption 100 amazingly awkward family photos. You don't have to be familiar with movie quotes to play or win this game. There are easy rules that teens will love, and the whole family is guaranteed to LOL!
Here's a hilarious bluffing board game that will have your family members talking and laughing all night long. Who amongst you will be the most creative in coming up with fake answers to fun trivia questions? It's super easy to learn. (For 4-8 players ages 10+)
An ultimate party game for crowds, this one will drive everyone crazy (in a fun way) as they try not to utter the forbidden sounds. Once the basics are mastered, players can keep adding new challenges that keep everyone on their toes. (For 4-12 players, ages 10+)
Our family was given this game last year and it's become a favorite. Players use word magnets to respond to outlandish prompts with a limited pool of words. Made for three or more players, it's definitely for teens and adults – especially those who love to put a lot of passion into their proclamations.
A true family-friendly game that everyone from kids to grandparents will love. Players try to draw 10 pictures in one minute and see if the others can identify what they drew. Whether you consider yourself an artist or can't draw at all, this game brings a lot of laughter and some very questionable art.
Learn in minutes and laugh for hours. Each round every player is given something to pose as, except for one person. The room must transform into a gallery of silly statues, while the guesser has to try and work out what everyone else is doing. (For players ages 8+)
If your family loves music, this is one game that you have to try. Who can pick the best song for the topic on the card? And who is best at figuring out the judge? This is fun, easy to play, and there are expansion decks for 80s, 90s, and 2000s tunes. Teens will really love this game!
After you roast the turkey are you ready to roast your family members? Hopefully, they can take a joke or two! This card game is for young adults or older, who can laugh at themselves and take some heat. With 600 cards in the box, there are millions of roast combinations that will keep everyone laughing.
About Marybeth Bock:
Marybeth Bock, MPH, is a Mom to two young adults and one delightful hound dog. She has logged time as a military spouse, childbirth educator, college instructor, and freelance writer. She lives in Arizona and thoroughly enjoys research and writing – as long as iced coffee is involved. Her work can be found on numerous websites and in two books. Follow her on Facebook and Instagram.
If you enjoyed, "30 Hilarious Thanksgiving Games Your Family Will Gobble Up," check out these other posts, too!
25 Thanksgiving Traditions for Teens (That Won't Make 'Em Cringe)
6 Ways to Reconnect with Your College Kids Over Thanksgiving Break Without Driving Them Nuts