This post: 25 Creative Mother's Day Gift Ideas 2022 | Updated 4/2022
Are you looking for a few creative Mother's Day gift ideas to let mom know how much she's loved and appreciated?
From sweet and silly to sentimental and sassy, shower mom with all the love and attention she deserves this Mother's Day with one of these 25 creative & heartfelt gifts she'll always remember!
We may earn a small affiliate commission on some of the products featured in this post. For more information, please visit our Privacy/Disclosure Page.
Rustic Heart Stackable Rings
For a gift that's both beautiful and sentimental, these rustic heart stackable rings will make mom feel special and loved this Mother's Day!
"Mom's Self-Care" Monthy Subscription Box
Send mom a monthly "self-care in a box" subscription that's bound to put a big smile on her face and remind her of how much she's loved and adored every time she opens a new box. Filled with unique self-care products, this box will inspire her to love and take care of herself.
Make Today Count: 365 Days of Inspiration & Tips to Live Fit
Give her the gift of health & inspiration! This handy reusable calendar is filled with 365 tips and daily motivational quotes to inspire a happy and healthy life – perfect for the mom who's dedicated to healthy living.

Sweet "Mama" Sweatshirt
Mamas are just amazing… plain and simple! This sweatshirt says it all!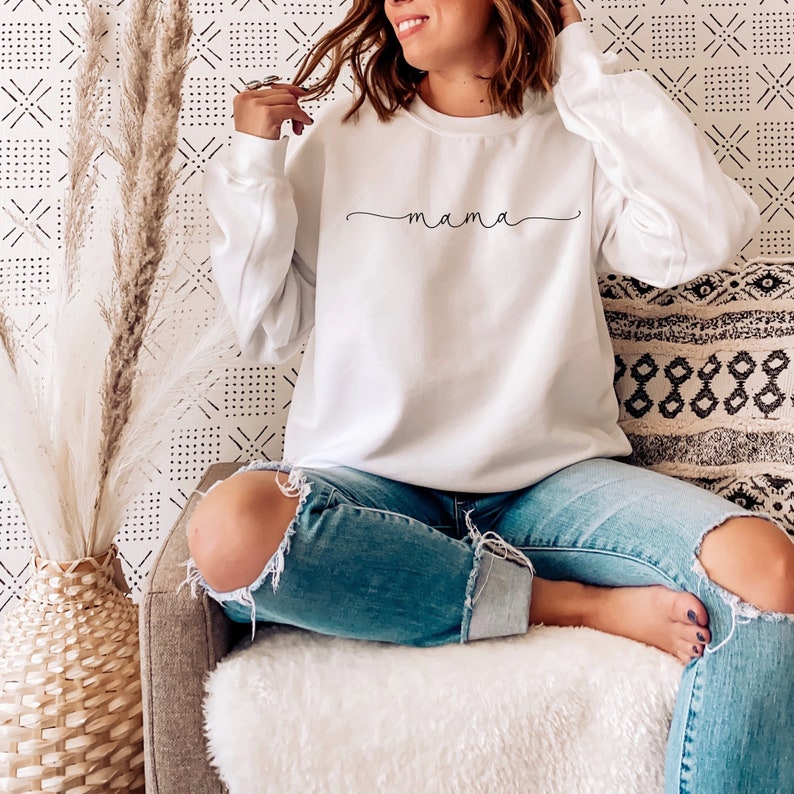 Natural and Organic Spa Bath Bombs
Sweet blessings from nature! She'll love these luxurious bath bombs with shea butter and essential oils for a soothing and relaxing bath spa experience.
Vera Wang Embrace Green Tea and Pear Blossom Eau de Toilette
Buy mom something she'd typically never buy herself. This Vera Wang Green Tea and Pear Blossom Eau de Toilette is a classic, yet romantic fragrance reminiscent of a fresh morning garden.
"Time to Wine Down" Outdoor Serving Tray
For the mom who's a wine enthusiast, this handy (and totally fun) serving tray is perfect for outdoor concerts, a day at the beach or a relaxing afternoon in the backyard with friends.
Fitbit Health & Fitness Tracker
For fit moms or those who aspire to be, this handy fitness tracker does it all! It has stress management tools, sleep tracking, 24/7 heart rate monitor, tracks steps, and even has a built-in GPS.
"Self-Care for Moms" Book
Help mom finally focus on herself. With 150+ real ways to care for herself (all while caring for everyone else), she can make sure she gives herself the pampering she needs to stay mentally strong and healthy.
Daily Planner
Now mom can wake up each day and get organized! This pretty daily planner with 50 tear-off pages will help her keep track of her to-do list, appointments, schedule, and remind her of everything she's grateful for.
Monogrammed Stadium Seat
Every sports mom will absolutely flip over this monogrammed stadium seat! No more back-breaking hours spent on hard, metal bleachers! Personalize it with plenty of fun stadium seat and thread colors, too!
ZIMASILK 100% Mulberry Silk Pillowcase
This 100% luxuriously silky pillowcase is mom's best remedy for smooth hair, wrinkle-free skin, and a wonderfully dreamy night's sleep. The pillow actually prevents hair from becoming knotted and prevents wrinkles! Amazon bestseller!
"All That I Am, I Owe to You" Bracelet
Show mom or grandmom just how much she means to you with this beautiful bracelet that captures exactly how you feel. Available in silver, gold and rose gold filled.
Grateful Gnome Hand Blown Hummingbird Feeder
With vibrant colors to attract hummingbirds, mom can relax on the porch, in the backyard or watch through a window as hummingbirds gracefully flutter and feed at this beautiful feeder. Makes the perfect gift for any mom who loves nature!
#MOMLIFE An Adult "Snarky" Coloring Book
Just because they're moms doesn't mean they don't love to color! And, what better way to enjoy a few quiet, therapeutic moments (away from the kids, of course) than to sit down, relax and color?
Beautiful Birthstone Necklace
Give mom this beautiful necklace with each of her children's birthstones and you'll likely get a few heartfelt tears of joy. Choose your birthstones along with the length of the necklace. This is one gift she'll treasure always.
Ancestry DNA Kit
With just a few simple steps, mom can discover her DNA story. It's a unique and fun gift that will help her learn about her origin and enlighten her about her ethnicity!
"This is Us" Family Wall Plaque
Whether her kids are near or far, this sentimental "This Is Us" wall plaque will hang on her wall and remind her how much her family cherishes her.

UGG Fluffy Slippers
Indulge mom in the softest slippers around! Available in a variety of different colors, her tired feet will sink into these soft, cozy slippers – she may never take them off!
"Wife Mom Boss" Mug
Every morning when she pours her coffee, remind her what her role is in the family – she's wife, mom AND boss!
Tervis Bright Wild Blooms Travel Tumbler
Now, mom can take her beautiful bouquet of flowers with her wherever she goes with this 20-ounce travel tumbler that keeps hot drinks piping hot and cold drinks cold.
11-Piece Spa Gift Basket ~ Jasmine
Give mom a gift that will encourage her to pamper herself a little more. Filled with everything she needs to indulge in herself including bubble bath, shower gel, lotion, body scrub, and more – all in an amazing Jasmine scent.
Organic Herb Garden Kit
This herb garden kit is the perfect gift for the mom who loves spending time in the garden or the mom who loves to cook with fresh herbs. The kit has everything she needs to grow Parsley, Sage, Cilantro, Thyme and Basil.
Fullstar Vegetable Chopper with 4 Blades
Every mom loves little gadgets that make her life just a tad easier. With 4 interchangeable blades, this handy vegetable chopper lets you julienne, chop and slice just about any veggie with ease!
Heart-Shaped Floral Suncatcher with "MOM" Charm
This precious floral suncatcher with a "mom" charm in the center will look beautiful hanging on a window and always remind her how much she's loved.
If you enjoyed, "25 Creative Mother's Day Gift Ideas 2022," you might also enjoy reading: