This post: 27 DIY Christmas Baskets for Tweens and Teens / Post Updated September 2023
Whether they're in festive baskets, buckets, bins, or jars, what teen wouldn't absolutely love receiving a homemade-themed Christmas basket?
They're fun, so creative, and one-of-a-kind! Plus, they're typically far less expensive than store-bought baskets making them the perfect budget-friendly and oh, so adorable gift idea for any tween or teen on your Christmas list!
And, the best part? Many of the supplies included in these baskets can be purchased at your local Dollar Store, Target, Walmart, or drug store – there's no need to spend a fortune to create a gift that's unique and special!
From cute and frivolous to tempting and sweet, we've rounded up the best-ever gift basket ideas around for tweens and teens! Give your tween or teen a gift basket that will fill them with holiday cheer! Check out our 27 DIY Christmas baskets for tweens and teens.
27 DIY Christmas Baskets for Tweens and Teens
Christmas Morning Coffee
Any coffee lover would have a hard time passing up this festive Christmas morning coffee basket. Buy a simple box or basket and fill it with your teen's favorite coffee, marshmallows, cinnamon sticks, and candy canes for a gift they'll always remember.
Christmas Pop Bottle
Want to do something super creative with your gift basket idea? Instead of using a basket, use pop bottles! Fill the bottles with Christmas-colored candy and use these FREE printables from Lil Luna to create a gift that stands out from the rest.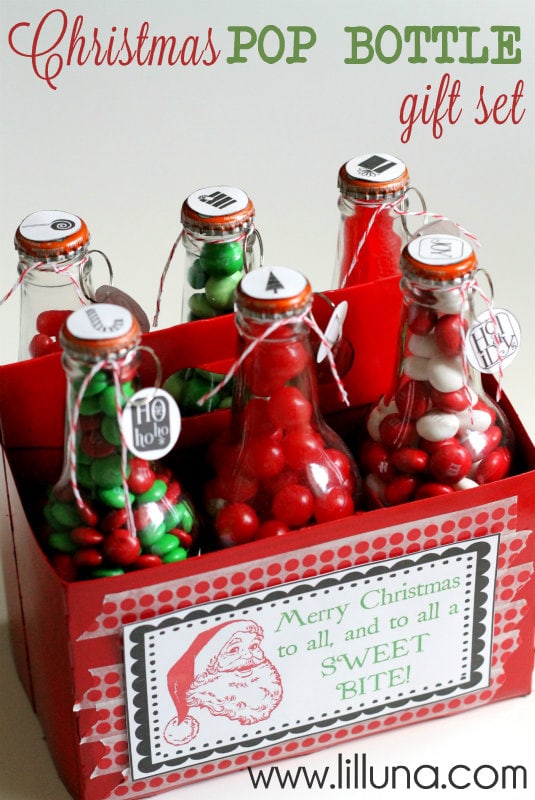 Baker's Gift Basket
Do you have a cookie-lover on your list? This baker's basket is so fun, creative, and easy to DIY! Just fill a colorful mixing bowl with cookie dough, baking supplies, cookie cutters, and sprinkles and you'll have an adorable themed gift they'll flip over!
DIY Peppermint Soap
Three simple ingredients are all it takes to make these festive peppermint soaps. Plus, the best part is they're inexpensive to make, too! Great gift for besties! Check out the full tutorial HERE.
The Ultimate Sweet Tooth
When it comes to DIY gift baskets for tweens and teens, you can't go wrong with this one! Seriously, is there a tween or teen out there who doesn't love sweets? Fill with all their favorite holiday sweet treats in a cute basket and add a festive bow for a gift that's fun, easy, and won't break the bank.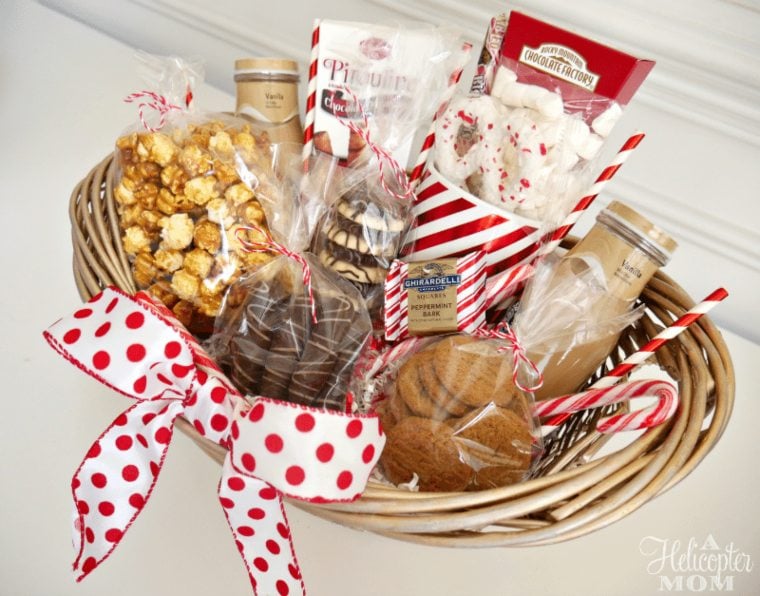 Christmas Hot Cocoa
We're lovin' this basket. Any basket or bucket will work – just fill empty glass ornaments (pick them up at any craft store) and fill them with marshmallows, sprinkles, and chocolate. Add a fun mug and hot cocoa for a sweet basket any teen would love!
Gamer Gift Basket
If you have a gamer in your life and you're stumped on what to get them, this gamer basket is a creative gift they're going to love. Fill a simple crate (you can pick them up at any craft store like Michael's) and fill it with all their favorite snacks and drinks, gaming gift cards, and any other gaming trinkets or accessories you think they'll love.
Cozy Slippers
Soft and cozy slippers filled with all her favorite treats and a few surprises is such a thoughtful and sweet gift idea. Why didn't we think of this sooner? Great for besties, too!
Christmas Eve Basket
Christmas Eve will feel even more special when they're presented with this cute-as-can-be basket. Fill with Christmas PJs, a Christmas book or movie, a pillowcase, hot cocoa & mug, and candy.
Stay Cozy Basket
Help your teen stay warm and cozy all winter long with this basket that's brimming with holiday scents and flavors to make them feel special and loved.
Winter Survival Kit
Such a cute and inexpensive idea for besties! Fill with a fuzzy pair of socks, cozy gloves, lip balm, hand cream, and hand sanitizer -all of which can be picked up at your local Dollar Store, drug store, or Target.

Coca-Cola & Hot Cocoa Gift Box
Two things teens love – Coca-Cola & Hot Cocoa – together in a gift box that's sure to bring a smile to their faces. This no-fuss gift idea is super easy to replicate and inexpensive. Be sure to head on over to Anders-ruff for the FREE printable!
Snow Day Survival Kit
Every kid, no matter how old they are, looks forward to snow days. This snow-day survival kit will keep them busy all day long! Fill with sugar cookie mix, cookie cutters, candy, and anything else your teen might love on a snowy day at home.
Cozy Slippers for Him
I don't know if there's a guy out there who wouldn't appreciate these cozy slippers filled with his favorite treats. It's so easy to replicate, too!
Warm & Cozy Basket
Your favorite teen will stay toasty warm all winter long with this basket. Fill with a soft throw blanket, a mug for tea or hot cocoa, socks, and their favorite chocolate.
For Chocolate Lovers
The great thing about gift baskets is that you can personalize them and they cost a lot less than pre-made store-bought baskets. This little basket, filled with everything a chocolate lover would flip over, is so easy to replicate. Fill a bucket or tin with chocolate candy and add a cute ornament to make it special.
Holiday Spa Basket
This holiday spa basket makes the absolute perfect gift for the teen girl on your list who loves to be pampered. You can fill it with anything store-bought, but better yet, why not make your own spa product to make it really special? For the easy recipes and FREE printables, visit Country Hill Cottage.
Tea Lovers Gift Basket
Now your favorite teenager can cuddle up by the fire with a hot cup of tea. Fill any basket with his/her favorite tea, Walker Shortbread Cookies (they're yummy, but any cookies will do), and a teacup.
Self-Care in a Jar
What teen girl wouldn't love getting this adorable gift for Christmas? Simply fill a mason jar with everything a girl needs to pamper herself a bit – nail polish, loofah sponge, lip balm, body wash, and more.
Image: Pinterest
Elf Basket
Inspired by one of the best Christmas movies of all time, this festive basket is brimming with plenty of fun that's fit for an elf! You can't go wrong with this basket – any teen would love it!
New Driver Gift Basket
If you have a soon-to-be new driver in the house, this new driver gift basket would make the perfect gift. Fill any colorful holiday basket with air freshener, emergency supplies, car accessories hand-free phone accessories, and more. You could really get creative with this one!
Sports Themed Gift Bucket
Buying gifts for your favorite sports enthusiast doesn't have to be boring (or expensive)! This sports bucket (which can easily be modified for any sport) is fun, easy to replicate, and filled with everything a sports enthusiast would love.
Bucket of Fun
The great thing about this bucket of fun is that you can add anything you want! Pile in anything you feel your teen would think is fun -from games and food to books and gift cards. This bucket was purchased at Target for $1 – you don't have to spend a ton!
Get Well Christmas Wishes
There's nothing worse than being sick at Christmas. If you have a teen who's feeling under the weather this holiday, gift them with this precious get-well basket. Fill a holiday basket with all sorts of "feel better" supplies including sore throat lozenges, Kleenex, comfy socks, tea & honey, a magazine, or anything that will help them feel better.
Root DEER Floats
Any root beer lover (oh, I mean root deer lover) is going to have a hard time passing up this adorably fun basket. Fill with root beer float fixings for a festive and creative basket they'll never forget. Download the FREE printable HERE!
Movie Night
Movie night just got a whole lot more fun! Fill with a fun movie, popcorn, popcorn maker, candy, snacks, and drinks for a creative basket any teen would love! (Add a big red bow to the basket to make it look more festive!)
Image: Cecelia Mercedes White Gifts
Gift Card Basket
Stumped on what to get your favorite picky teen? Get them a basket filled with gift cards to all their favorite stores or restaurants. To keep it budget-friendly, choose $5 or $10 gift cards!
Share your ideas with us! Have you created any DIY Christmas baskets for tweens and teens? Let us know in the comments section below!
Here are a few other posts you might enjoy!