Are you ready for some football?
Whether your teen is hunkering down with the family to watch the Super Bowl game or they're having a handful of friends over for the best tailgate party ever, don't forget to serve up a few football-inspired dips, appetizers, wings, and sizzling snacks! Score big with these top 25 Super Bowl recipes and you might just be voted MVP!
25 Super Bowl Sunday Recipes that are Sure to Score a Touchdown
Buffalo Ranch "Tackle" Cheese Ball
You're guaranteed "touchdown" status with this super easy and delicious cheese ball that adds just a kick of sizzlin' Louisiana hot sauce. Get the recipe HERE.

"Punt" Pepper Jack Spinach Dip with Bacon
This spinach dip is not only super creamy, it's packed with amazing flavor! Plus, it can be made a day in advance and then baked when you're ready to nibble. Serve it with pita chips, crackers or tortilla chips. Get the recipe HERE.

"Super Bowl" Puppy Chow
The ultimate football puppy chow! Cheer on your favorite team with this game day or super bowl snack recipe! Find the recipe HERE.
"Half-Time" Crispy Oven-Baked Chicken Wings
If you want the perfect crispy baked hot wings, but want to skip the fat of frying, look no further than this baked chicken wings recipe. Find the recipe HERE.
Steppin' Up Your Game "Huddle" Brownies
You'll be steppin' up your brownie game with these rich, fudgy, decadent brownies. Be careful though, they just might become your all-time favorite brownies. Get the recipe HERE.
"Fair Catch" Pizza Knots
How could anyone resist garlic knots stuffed with mozzarella and pepperoni? Ummm… no one! Get the recipe HERE.
"Sideline" Mediterranean Pasta Salad
This Mediterranean Pasta Salad recipe is super quick and easy to make and pairs perfectly with burgers, wings, french dip sandwiches or anything else you're servin' up at your tailgate. Plus, it's always a crowd-pleaser. Get the recipe HERE.
"Game Day" Crock Pot French Dip Sandwiches
Tender and juicy Crock Pot French Dip Sandwiches are slow-cooked for hours and served on a toasted hoagie with melted provolone cheese. Trust me on this one, your tailgating tribe won't be able to get enough of this! Get the recipe HERE.
"Free Kick" Chipotle Lime Shrimp
Some flavors are just meant to be together like spicy chipotle and tangy, sweet lime! Get the recipe HERE.
"Gunslinger" HOT Fire Crackerz
These HOT Fire Crackerz are ridiculously easy to make and super tasty. They pack a lot of heat so depending on your taste buds, you might want to adjust the red pepper flakes accordingly. Get the recipe HERE.
BEST "Blitz" Potato Skin Bites
These easy cheesy bites taste just like potato skins only so much easier to make! Get the recipe HERE.
"First Down" Easy Enchilada Cups
An enchilada in a cup! Who knew? Finger-food-friendly and incredibly easy to make. Get the recipe HERE.
"Touch Down" Cookies and Cream Cheese Ball
If you love Oreos, you're going to love this recipe! Whip up this six-ingredient stand-out recipe in a flash and add some football fun to your next tailgate party. Get the recipe HERE.
"Sittin' in the Stands" Popcorn Bar
Give the crowd what they want! Popcorn with a variety of salty and sweet add-in options. The sky is the limit here – M&M's, trail mix, pretzels, mini marshmallows, a variety of candy or awesome flavorings. For more ideas: HERE.
"End Zone" Cowboy Caviar
Packed with a ton of fresh, colorful ingredients and a delicious sweet and spicy dressing, this Cowboy Caviar makes a great salsa or dip for your next tailgating bash. Plus, it's healthy! Get the recipe HERE.
"Home Team" Honey Garlic Wings
So easy to make and delicious to boot, these Honey Garlic Wings will be a huge "WIN" with the home team! Get the recipe HERE.
"Championship" Chocolate Cupcakes
These football-themed cupcakes are not only delicious, they're adorable. Serve these and your guests will likely vote you MVP! Get the recipe at Beyond Frosting HERE.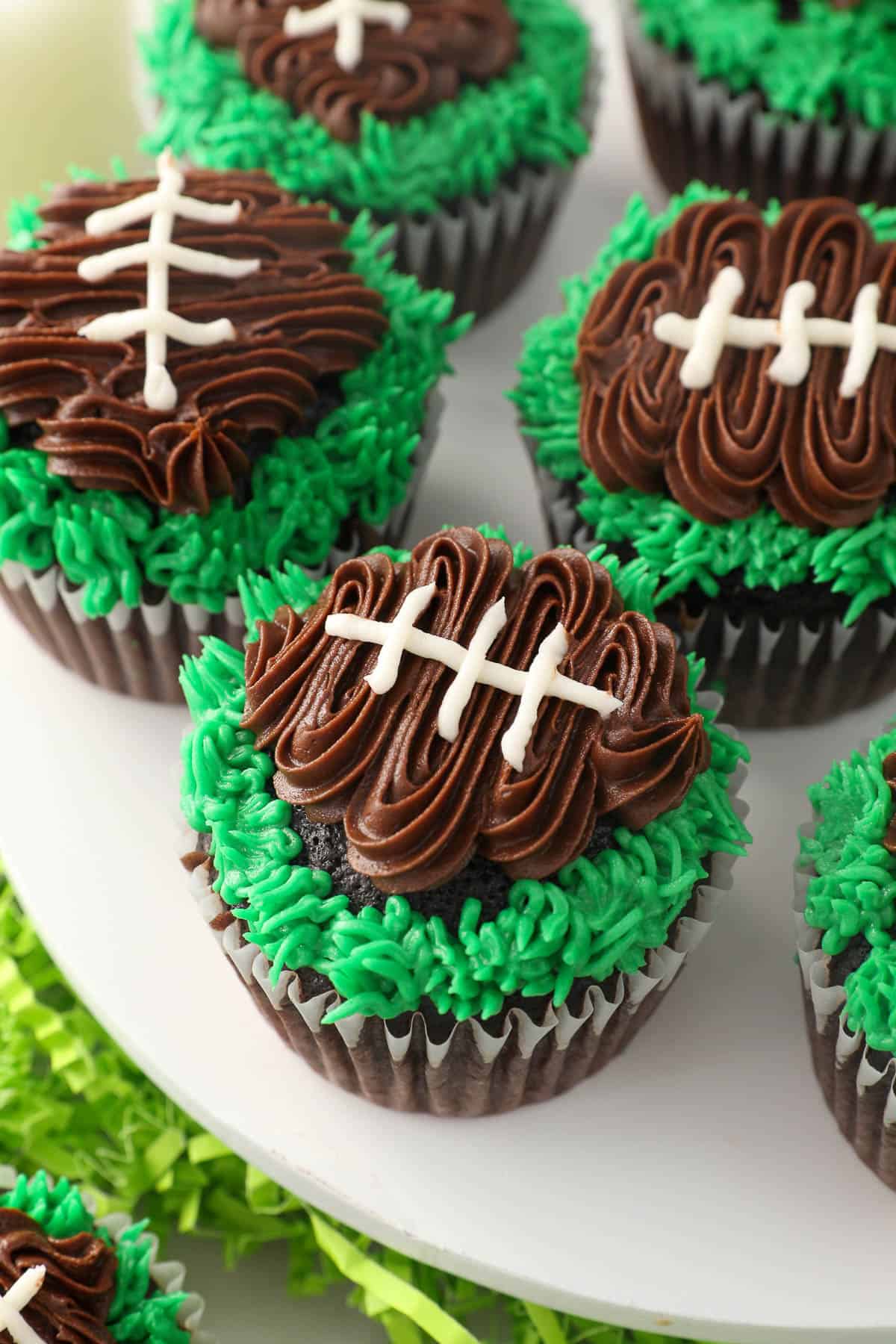 "First Down" Salt n' Pepper Sweet Potato Fries
Perfectly crispy, these salty and peppery sweet potato fries will rival your favorite restaurants. Get the recipe HERE.
"Blitzed" Baked Macaroni and Cheese
No tailgate party is complete without Baked Mac & Cheese. Perfect for kids and adults alike, this creamy recipe will make the crowd go nuts! Get the recipe HERE.
"Scrimmage" Bacon Brown Sugar Smokies
Make these easy and oh, so delicious Bacon Brown Sugar Smokies a day ahead to make it easy. Serve with grainy mustard and cold beer on game day. Get the recipe HERE.
"Flea Flicker" BBQ Chicken Dip
Is your mouth watering yet? This incredible dip has a blend of amazing flavors including red onion, rotisserie chicken, BBQ sauce, and cilantro. Get the recipe HERE.
"Scramble" Salted Caramel & Chocolate Stack Bars
This prize-winning recipe packs in a ton of great flavor all rolled into one – sweet, salty, nutty, and chocolatey. Get the recipe HERE.
"Shotgun" Italian Avocado Cucumber Tomato Salad
This delicious (and healthy) Avocado Cucumber Tomato Salad is filled with fresh ingredients including red onion, mozzarella cheese balls, avocado, and tomato all tossed in a tangy lemon Italian glaze and topped with feta cheese. Get the recipe HERE.
"Go For the Win" Tater Tot Nachos
Come on! Let's take tater tots where they've never been before! Kinda like nachos, only better! Get the recipe HERE.
"Running Back" Tangy Ham and Swiss Sliders
These look like simple sandwiches until you taste them, that is. The Worcester sauce and poppy seeds blended with ham and melted swiss make these easy sandwiches a perfect addition to your next tailgate party. Get the recipe HERE.
To give your tailgate party that extra game day flair, here are a few printables you can download for FREE!
Join us on the Raising Teens Today Facebook page where I share the BEST articles, insight and awesome advice from experts, moms, and bloggers from all around the web! You'll find tips on everything from communicating with your teen and college to drugs and discipline, plus everything in between. We also throw in a ton of real-life humor just to keep us all sane. See you there!